We are proud to include Eugene Roche, father of RFM Best Friend Mick Roche (aka Jokerman), as an artist in our community. His visit was a gift to us. Here is a poetry reading excerpt from the interview, and here is the entire interview.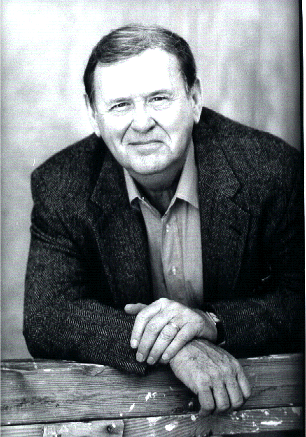 It is Eugene Roche's ability to take a role and breathe believability and truth into it that has sustained his dramatic and comedic career of more than four decades on stage, in films, and television. He has emerged as one of the entertainment industry's most sought after and recognizable character actors.
Eugene was born in Boston at the height of the depression into a family of four brothers and a sister. His father, Robert, a quartermaster in the US Navy, fell in love with a girl named Mary Finnegan and they remained sweethearts for their entire lives.
With five children of their own and money being scarce, Mary took in boarders all of whom were under the age of four. And they all slept in Gene's room.
His first paid job as an actor came at the age of 15 working for WERS Radio in Boston doing a variety of character voices ranging from young men to old women where he made two bucks a show.
Leaving high school at the age of 17, Eugene enlisted in the army, adding a fourth star on the service flag hanging on his family's front window. His father and two older brothers were already serving in World War II.
After basic training, and on his way aboard a troop ship moving toward Japan as part of the Allied occupation, he found himself sandwiched in a bunk bed between two fat, seasick GI's on E deck in the bowels of the ship. Answering a notice on the ship's bulletin board for an emcee for a show at sea, he won the audition and escaped to good food and fresh air. Ahhhh! Show biz!
Upon his discharge he returned to Boston and enrolled at Emerson College under the GI Bill. While attending Emerson, Eugene appeared in numerous summer stock, variety shows, and touring companies in the New England area. Some of the people he appeared with during this time were Bob Fosse in "Pal Joey" and Henry Fonda in "Point of No Return."
As an inactive reservist he was recalled into service because of the Korean War and returned to college upon discharge; completed his education; married; and headed for San Francisco with his new bride, a great Dane, and another actor all traveling together in an English Austin automobile with a questionable sunroof.
San Francisco marked the beginning of a seminal period for Eugene's development as an actor. From 1953 through 1958 he had the opportunity to perform in classic plays by playwrights such as O'Casey, O'Neill, Brecht, Beckett and Ionesco with the newly formed Actor's Workshop of San Francisco. He also had the distinction of starring in the inaugural production of Seperate Tables at the Commedia Theatre in Palo Alto.
Soon after his arrival in San Francisco he spotted a casting notice in The Chronicle for Equity actors for the newly formed Actor's Wrokshop. He won the leading role of Robert in The Girl on the Via Flaminia, followed by many others, including the American premiere of Mother Courage (the cook), The Iceman Cometh (Hickey), and the West Coast premiere of Waiting for Godot (Vladimir).
This production of Waiting for Godot had the distinction of being the first production ever performed inside San Quentin prison and was chosen by the US State Department to represent America at the 1959 Brussels World's Fair in Belgium.
With the prestige and success of Godot, Eugene moved to New York where he never stopped working. He worked during the hey-day of "live" television doing such shows as The Armstrong Circle Theatre, US Steel Hour, and CBS Play of the week. He appeared in countless commercials as well as episodic television shows such as The Defenders and Naked City.
His off-Broadway credits include Dylan Thomas's Under Milkwood at Circle in The Square and the musical version of James Thurber's The Secret Life of Walter Mitty (recorded by Columbia Records).
William and James Goldman's production of Blood, Sweat, and Stanley Poole starring Darren McGavin introduced Eugene to Broadway audiences along with his co-star Peter Fonda, who was making his b=Broadway debut as well.
Following Eugene's debut he appeared with Helen Hayes on Broadway in AE Hotchner's In the White House, which, incidentally, was done as a command performance for President Johnson in Washington DC.
He also appeared in the Broadway premiere of Mother Courage with Anne Bancroft directed by Jerome Robbins; All in Good Time with Sir Donald Wolfitt; The Millionairess with Carol Channing; Great Day in the Morning produced by George C Scott with Colleen Dewhurst; Arthur Miller's The Price and the West Coast premiere of Time of the Barracudas with Laurence Harvey and Elaine Stritch.
While living in New York, Eugene also co-starred in two television series: Higher and Higher - Attorney's at Law with John McMartin and Sally Kellerman and the Corner Bar with Anne Meara as well as doing the films Cotton Comes to Harlem (Godfrey Cambridge); The Happening (Faye Dunaway); They Might Be Giants (George C. Scott and Joanne Woodward); W (in Cinerama with Twiggy); Star (Julie Andrews); Newman's Law (George Peppard); Mr. Ricco (Dean Martin); and Slaughterhouse Five.
In 1974 Eugene moved to Los Angeles where he continues his motion picture appearance with such films as The Late Show (Lily Tomlin and Art Carney); Corvette Summer (Mark Hamill and Annie Potts); Foul Play (Chevy Chace and Goldie Hawn; Oh God, You Devil (George Burns); Eternity (Jon Voight); When a Man Loves a Woman (Meg Ryan and Andy Garcia); and Executive Decision (Steven Segal and Kurt Russell).
Some of his memorable television roles include his stint as E. Ronald Mallu, the humorously sly attorney on "Soap"; Archie Bunker's nemesis, Pinky Peterson, on All in the Family; Markie Post's father on the long-running NightCourt series; Harry Burns, the newspaper editor on Perfect Strangers; the cantankerous Luther Gillis in Magnum PI; Bill Parker, the lovable landlord in Webster; and most recently, as Eric Jr. in Dave's World. His list of starring credits in Movies of the Week; guest appearances and other principal roles in series goes on and on.
Eugene currently resides in Los Angeles with his wife of 15 years, actress Anntoni Roche, in their hillside home where he enjoys inventing and building things while singing obscure songs to their dog, Duffer. Eugene is very proud of all his nine children, and three of his sons are following in his footsteps. Eamonn and Brogan are establishing acting careers and, Sean, is an Emmy award-winning writer, producer. Eugene is writing a book of short stories chronicling the funny and moving people and events that have touched and graced his life.